REVIVE
$150,000 - $160,000 / WEEK
---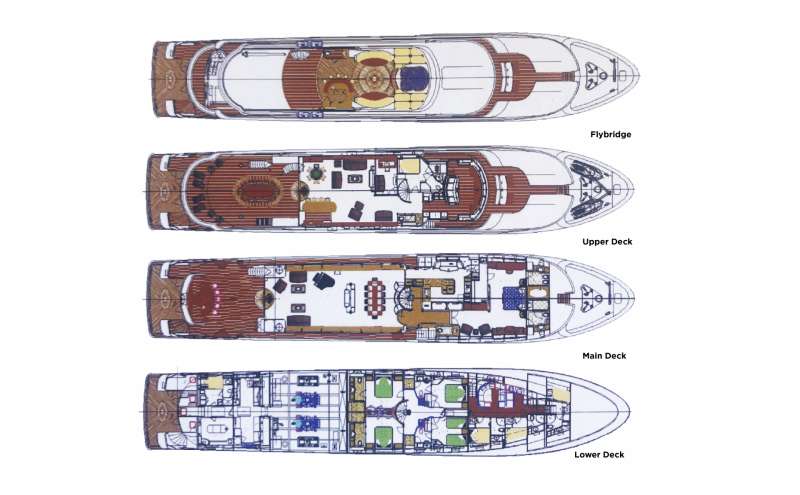 Boat Details
| | |
| --- | --- |
| Cabins: | 5 |
| Queen: | 3 |
| Single Cabins: | 1 |
| Showers: | 10 |
| Wash Basins: | 11 |
| Heads: | 11 |
| Electric Heads: | - |
Pick Up Locations
| | |
| --- | --- |
| Pref. Pick-up: | - |
| Other Pick-up: | - |
---
Details
| | |
| --- | --- |
| Refit: | 2019 |
| Helipad: | Yes |
| Jacuzzi: | Yes |
| A/C: | Full |
Engine Details
-
Fuel Consumption:
-
Cruising Speed:
15
Max Speed:
-
Locations
| | |
| --- | --- |
| Winter Area: | Caribbean Virgin Islands, Bahamas, Caribbean Leewards, Caribbean Windwards, Florida, Mexico, Central America, Belize |
| Summer Area: | Caribbean Virgin Islands, Bahamas, Caribbean Leewards, Caribbean Windwards, Florida, Mexico |
---
Amenities
| | |
| --- | --- |
| Salon Tv/VCR: | Yes |
| Salon Stereo: | - |
| Sat Tv: | - |
| # of Videos: | - |
| # DVDs/Movies: | - |
| # CD's: | - |
| Camcorder: | - |
| Books: | Yes |
| Board Games: | Yes |
| Sun Awning: | Yes |
| Deck Shower: | Yes |
| Bimini: | Yes |
| Water Maker: | Yes |
| | |
| --- | --- |
| Special Diets: | Yes |
| Kosher: | Inq |
| BBQ: | Yes |
| # Dine In: | Yes |
| Minimum Age: | - |
| Generator: | 2 X Caterpillar 80KW Generator |
| Inverter: | Yes |
| Voltages: | 220 / 110 / 24 / 12 |
| Water Maker: | Yes |
| Water Cap: | - |
| Ice Maker: | Yes |
| Sailing Instructions: | - |
| Internet Access: | Onboard WIFI |
| | |
| --- | --- |
| Gay Charters: | Yes |
| Nude: | Yes |
| Hairdryers: | Yes |
| # Port Hatches: | Yes |
| Guests Smokes: | On Deck |
| Crew Smokes: | No |
| Pets Aboard: | No |
| Pet Type: | - |
| Guest Pets: | - |
| Children Ok: | Yes |
| Hammock: | - |
| Windscoops: | - |
---
Water Sports
| | |
| --- | --- |
| Dinghy size: | 39' Venture |
| Dinghy hp: | 700 HO |
| Dinghy # pax: | - |
| Water Skis Adult: | Yes |
| Water Skis Kids: | - |
| Jet Skis: | - |
| Wave Runners: | 2 |
| Kneeboard: | Yes |
| Windsurfer: | - |
| Snorkel Gear: | Yes |
| Tube: | Yes |
| | |
| --- | --- |
| Scurfer: | Yes |
| Wake Board: | Yes |
| Kayaks 1 Pax: | - |
| Kayaks (2 Pax): | Yes |
| Floating Mats: | Yes |
| Swim Platform: | Yes |
| Boarding Ladder (Loc/Type): | Yes |
| Sailing Dinghy: | - |
| Beach Games: | Yes |
| Fishing Gear: | Yes |
| Gear Type: | inshore and offshore |
| Rods: | - |
Captain: Garry Hartshorne
Garry grew up on his parents cruising yacht sailing the East Coast of Australia, Papua New Guinea and the Solomon Islands. At the age of 18 the family embarked on a two and a half year circumnavigation of the world. On returning to Australia he joined the Royal Australian Navy and became a diver. On leaving the service, Garry started working in the charter fleet on the Great Barrier Reef initially as a Dive Master and eventually Captain. In 1990 he heard the calling of Super Yachts and has been wandering the world ever since. Garry has a passion for the ocean and traveling.

First Officer: JASON WILLIAMS
Jason grew up in the beautiful Islands of Fiji. His passion for the ocean kicked off at an early age Jason began his maritime career after leaving high school in New Zealand, he returned to Fiji and obtained a commercial Deck and Engineer rating at the Fiji School of Maritime Studies. His passion for fishing landed him a job on a sport-fishing boat in Fiji hunting pelagic monsters. In 2011 he began work on a large expedition yacht onto a now expansive yachting career. His passions are Fishing, Spearfishing, Aviation and he enjoys a light round of Golf in his spare time. Jason holds a 200 Ton Master of Yachts, PADI Dive Master, Fii Level 1 Free-diver. and Emergency First Responder Certificate.

Chief Stew: HYACINTH T. ARCEO
From the beautiful islands of Cebu Philippines, She had always dreamt of traveling the world. After graduating college with a Bachelors of Science in Commerce. She worked as a Financial Educator with the World Finance Group in the Philippines. Eight years ago she was offered a stewardess position and has been traveling the world ever since. She loves working with people and providing exceptional service. Her hobbies include going to the gym, running and walking outdoors. She also loves cooking and singing.

Stew: ANGHELA CAZORLA
Angie born in Peru and raised in Argentina with an Italian father and Chinese mother, which has exposed her to traveling and learning from multiple cultures, it's a lifestyle that she passionately wants to continue. Yachting seems like a good fit for her.

Deck: JAZPER PETRELLUZI
Jazper was born and raised on the island of Sint Maarten. He loves all the types of water sports, He is currently working towards gaining his yachtmasters.

Stew: LOUISE OREBRATT
Louise grew up in Stockholm and studied Hospitality and Restaurant Management at Osteraker Collage in Sweden she then went on to obtain an associate degree in Environmental Studies at Santa Monica Collage. She has a passion for travel and exploring different cultures.

Deck: GERADO AMADOR
From Barra Navidad on the Pacific coast of Mexico, naturally was drawn to the ocean Gerado an ex pro surfer and keen fisherman holds a 200 Ton Master of Yachts has been working on yachts since 2014.

Fishing Mate: CARLOS LUIS MATOS
"PAIBA" grew up in Isla Margarita off the coast of Venezuela. His passion for sport fishing began in 1997 and is the current record holder of the largest number of Blue Marlin ( 16 ) caught in one day in the Dominican Republic. Carlos holds a degree in business administration and is also an accomplished Basket ball player having played professionally for the Venezuelan national team for 4 years.

Chef: BLAIR SILVA
Chef Blair is a native of Toronto, Canada. He has worked at some of the most challenging and highly rated restaurants in the country including Alo and Canoe. He has also completed a 6 month internship at Astrid y Gaston in Lima, Peru. At the time it was the 16th best restaurant the world. His preferred style of food is elevated comfort food using the freshest local ingredients available.
(15 December -30 April)
Caribbean Virgin Islands, Bahamas, Caribbean Leewards, Caribbean Windwards, Florida, Mexico, Central America, Belize
(1 May - 14 December)
Caribbean Virgin Islands, Bahamas, Caribbean Leewards, Caribbean Windwards, Florida, Mexico
| | | | | | | | | | | | | | | | | | | | | | | | | | | | | | | | |
| --- | --- | --- | --- | --- | --- | --- | --- | --- | --- | --- | --- | --- | --- | --- | --- | --- | --- | --- | --- | --- | --- | --- | --- | --- | --- | --- | --- | --- | --- | --- | --- |
| Dec 2019 | 1 | 2 | 3 | 4 | 5 | 6 | 7 | 8 | 9 | 10 | 11 | 12 | 13 | 14 | 15 | 16 | 17 | 18 | 19 | 20 | 21 | 22 | 23 | 24 | 25 | 26 | 27 | 28 | 29 | 30 | 31 |
| Jan 2020 | 1 | 2 | 3 | 4 | 5 | 6 | 7 | 8 | 9 | 10 | 11 | 12 | 13 | 14 | 15 | 16 | 17 | 18 | 19 | 20 | 21 | 22 | 23 | 24 | 25 | 26 | 27 | 28 | 29 | 30 | 31 |
| Feb 2020 | 1 | 2 | 3 | 4 | 5 | 6 | 7 | 8 | 9 | 10 | 11 | 12 | 13 | 14 | 15 | 16 | 17 | 18 | 19 | 20 | 21 | 22 | 23 | 24 | 25 | 26 | 27 | 28 | 29 | | |
| Mar 2020 | 1 | 2 | 3 | 4 | 5 | 6 | 7 | 8 | 9 | 10 | 11 | 12 | 13 | 14 | 15 | 16 | 17 | 18 | 19 | 20 | 21 | 22 | 23 | 24 | 25 | 26 | 27 | 28 | 29 | 30 | 31 |
| Apr 2020 | 1 | 2 | 3 | 4 | 5 | 6 | 7 | 8 | 9 | 10 | 11 | 12 | 13 | 14 | 15 | 16 | 17 | 18 | 19 | 20 | 21 | 22 | 23 | 24 | 25 | 26 | 27 | 28 | 29 | 30 | |
| May 2020 | 1 | 2 | 3 | 4 | 5 | 6 | 7 | 8 | 9 | 10 | 11 | 12 | 13 | 14 | 15 | 16 | 17 | 18 | 19 | 20 | 21 | 22 | 23 | 24 | 25 | 26 | 27 | 28 | 29 | 30 | 31 |
| Jun 2020 | 1 | 2 | 3 | 4 | 5 | 6 | 7 | 8 | 9 | 10 | 11 | 12 | 13 | 14 | 15 | 16 | 17 | 18 | 19 | 20 | 21 | 22 | 23 | 24 | 25 | 26 | 27 | 28 | 29 | 30 | |
| Jul 2020 | 1 | 2 | 3 | 4 | 5 | 6 | 7 | 8 | 9 | 10 | 11 | 12 | 13 | 14 | 15 | 16 | 17 | 18 | 19 | 20 | 21 | 22 | 23 | 24 | 25 | 26 | 27 | 28 | 29 | 30 | 31 |
| Aug 2020 | 1 | 2 | 3 | 4 | 5 | 6 | 7 | 8 | 9 | 10 | 11 | 12 | 13 | 14 | 15 | 16 | 17 | 18 | 19 | 20 | 21 | 22 | 23 | 24 | 25 | 26 | 27 | 28 | 29 | 30 | 31 |
| Sep 2020 | 1 | 2 | 3 | 4 | 5 | 6 | 7 | 8 | 9 | 10 | 11 | 12 | 13 | 14 | 15 | 16 | 17 | 18 | 19 | 20 | 21 | 22 | 23 | 24 | 25 | 26 | 27 | 28 | 29 | 30 | |
| Oct 2020 | 1 | 2 | 3 | 4 | 5 | 6 | 7 | 8 | 9 | 10 | 11 | 12 | 13 | 14 | 15 | 16 | 17 | 18 | 19 | 20 | 21 | 22 | 23 | 24 | 25 | 26 | 27 | 28 | 29 | 30 | 31 |
| Nov 2020 | 1 | 2 | 3 | 4 | 5 | 6 | 7 | 8 | 9 | 10 | 11 | 12 | 13 | 14 | 15 | 16 | 17 | 18 | 19 | 20 | 21 | 22 | 23 | 24 | 25 | 26 | 27 | 28 | 29 | 30 | |
---