AU SOLEIL
$13,000 - $14,500 / WEEK
---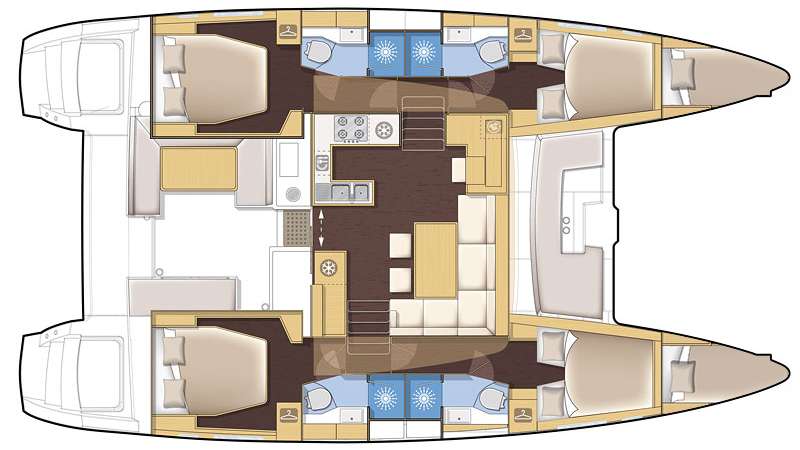 Boat Details
| | |
| --- | --- |
| Cabins: | 3 |
| Queen: | 2 |
| Single Cabins: | 1 |
| Showers: | 3 |
| Wash Basins: | 3 |
| Heads: | - |
| Electric Heads: | 3 |
Pick Up Locations
| | |
| --- | --- |
| Pref. Pick-up: | YHG, St. Thomas |
| Other Pick-up: | Red Hook, STT - West End, Tort |
---
Details
| | |
| --- | --- |
| Refit: | - |
| Helipad: | No |
| Jacuzzi: | No |
| A/C: | Full |
Engine Details
2 x Yanmar 57hp
Fuel Consumption:
-
Cruising Speed:
-
Max Speed:
-
Locations
| | |
| --- | --- |
| Winter Area: | Caribbean Virgin Islands |
| Summer Area: | Caribbean Virgin Islands |
---
Amenities
| | |
| --- | --- |
| Salon Tv/VCR: | No |
| Salon Stereo: | Yes |
| Sat Tv: | WiFi - ONLY in the BVI |
| # of Videos: | Array |
| # DVDs/Movies: | Yes |
| # CD's: | Yes |
| Camcorder: | No |
| Books: | No |
| Board Games: | Yes |
| Sun Awning: | Yes |
| Deck Shower: | Yes |
| Bimini: | Yes |
| Water Maker: | Yes |
| | |
| --- | --- |
| Special Diets: | Yes |
| Kosher: | Inq |
| BBQ: | Yes |
| # Dine In: | 6 |
| Minimum Age: | None |
| Generator: | Yes |
| Inverter: | Yes |
| Voltages: | 110 V |
| Water Maker: | Yes |
| Water Cap: | - |
| Ice Maker: | Yes |
| Sailing Instructions: | No |
| Internet Access: | Onboard WIFI |
| | |
| --- | --- |
| Gay Charters: | Yes |
| Nude: | Inq |
| Hairdryers: | No |
| # Port Hatches: | Yes |
| Guests Smokes: | On sugar scoops only |
| Crew Smokes: | No |
| Pets Aboard: | No |
| Pet Type: | - |
| Guest Pets: | No |
| Children Ok: | Yes |
| Hammock: | Yes |
| Windscoops: | No |
---
Water Sports
| | |
| --- | --- |
| Dinghy size: | 8' |
| Dinghy hp: | 15HP |
| Dinghy # pax: | 8 |
| Water Skis Adult: | No |
| Water Skis Kids: | No |
| Jet Skis: | No |
| Wave Runners: | No |
| Kneeboard: | No |
| Windsurfer: | No |
| Snorkel Gear: | Yes |
| Tube: | Yes |
| | |
| --- | --- |
| Scurfer: | No |
| Wake Board: | 1 |
| Kayaks 1 Pax: | No |
| Kayaks (2 Pax): | Yes |
| Floating Mats: | Yes |
| Swim Platform: | No |
| Boarding Ladder (Loc/Type): | Yes/aft |
| Sailing Dinghy: | No |
| Beach Games: | Yes |
| Fishing Gear: | Yes |
| Gear Type: | Trolling |
| Rods: | 2 |
MEET THE CREW
Captain: Brian Schott
Qualifications: RYA Yacht Master, Coastal with Commercial Endorsement, STCW, USGT 100GT with sailing endorsement, Recreation Administration with an option in hotel management and special events, Water Safety instructor

Chef/First Mate: Alex Robertson

Brian began his passion for life on the water growing up in sunny California. He spent his childhood summers on lakes learning all about power boats from his father and as a teenager was exposed to sailing and he then knew that sailing would be his lifelong vice.

After graduating Chico State University with a major in Hospitality and Special Events, Brian moved to San Diego to be closer to the water to allow him to continue sailing on the weekends. He soon realized that two days a week on the water was not enough so Brian quit his job to finally pursue the sailing career he really wanted.

Brian has extensive experience chartering on power and sailing yachts ranging from 30-50ft in the Caribbean, Aegean, Adriatic, Irish, and Atlantic Sea. Aside from learning the ropes of sailing with Brian, guests of all ages can look forward to a swimming or wake board lesson or two from the legendary instructor himself as well as snorkeling, fishing, paddle boarding and kayaking while on charter.


Alex was born in Toronto and raised in Philadelphia, Alex learned the ins and outs of sailing from her father and grandfather on the North East Coast and on the Great Lakes. Cooking was always a family past time, but after graduating from the University of Toronto with a degree in Anthropology in 2015, Alex moved to Italy to learn more about the Italian culture, but most importantly, the food. After working in restaurants in Florence, Alex knew that she could never move to a corporate career and began to search for the perfect combination of cooking and adventure.


Raised in a sailing family, Alex has seen the good, bad and ugly of sailing and chartering but still fell in love with the lifestyle. She began working charters as a yacht hostess in the Adriatic Sea in 2016. Three years later, and fast forward three years, Alex is a globally experienced chef having worked aboard sailing yachts cooking and hosting all over the world from the East Indies to the Caribbean, with no end in sight and no plan to slow down.

A week or a few days on board Au Soleil with Brain and Alex will no doubt be your best vacation ever!




(15 December -30 April)
Caribbean Virgin Islands
(1 May - 14 December)
Caribbean Virgin Islands
| | | | | | | | | | | | | | | | | | | | | | | | | | | | | | | | |
| --- | --- | --- | --- | --- | --- | --- | --- | --- | --- | --- | --- | --- | --- | --- | --- | --- | --- | --- | --- | --- | --- | --- | --- | --- | --- | --- | --- | --- | --- | --- | --- |
| Jun 2020 | 1 | 2 | 3 | 4 | 5 | 6 | 7 | 8 | 9 | 10 | 11 | 12 | 13 | 14 | 15 | 16 | 17 | 18 | 19 | 20 | 21 | 22 | 23 | 24 | 25 | 26 | 27 | 28 | 29 | 30 | |
| Jul 2020 | 1 | 2 | 3 | 4 | 5 | 6 | 7 | 8 | 9 | 10 | 11 | 12 | 13 | 14 | 15 | 16 | 17 | 18 | 19 | 20 | 21 | 22 | 23 | 24 | 25 | 26 | 27 | 28 | 29 | 30 | 31 |
| Aug 2020 | 1 | 2 | 3 | 4 | 5 | 6 | 7 | 8 | 9 | 10 | 11 | 12 | 13 | 14 | 15 | 16 | 17 | 18 | 19 | 20 | 21 | 22 | 23 | 24 | 25 | 26 | 27 | 28 | 29 | 30 | 31 |
| Sep 2020 | 1 | 2 | 3 | 4 | 5 | 6 | 7 | 8 | 9 | 10 | 11 | 12 | 13 | 14 | 15 | 16 | 17 | 18 | 19 | 20 | 21 | 22 | 23 | 24 | 25 | 26 | 27 | 28 | 29 | 30 | |
| Oct 2020 | 1 | 2 | 3 | 4 | 5 | 6 | 7 | 8 | 9 | 10 | 11 | 12 | 13 | 14 | 15 | 16 | 17 | 18 | 19 | 20 | 21 | 22 | 23 | 24 | 25 | 26 | 27 | 28 | 29 | 30 | 31 |
| Nov 2020 | 1 | 2 | 3 | 4 | 5 | 6 | 7 | 8 | 9 | 10 | 11 | 12 | 13 | 14 | 15 | 16 | 17 | 18 | 19 | 20 | 21 | 22 | 23 | 24 | 25 | 26 | 27 | 28 | 29 | 30 | |
| Dec 2020 | 1 | 2 | 3 | 4 | 5 | 6 | 7 | 8 | 9 | 10 | 11 | 12 | 13 | 14 | 15 | 16 | 17 | 18 | 19 | 20 | 21 | 22 | 23 | 24 | 25 | 26 | 27 | 28 | 29 | 30 | 31 |
| Jan 2021 | 1 | 2 | 3 | 4 | 5 | 6 | 7 | 8 | 9 | 10 | 11 | 12 | 13 | 14 | 15 | 16 | 17 | 18 | 19 | 20 | 21 | 22 | 23 | 24 | 25 | 26 | 27 | 28 | 29 | 30 | 31 |
| Feb 2021 | 1 | 2 | 3 | 4 | 5 | 6 | 7 | 8 | 9 | 10 | 11 | 12 | 13 | 14 | 15 | 16 | 17 | 18 | 19 | 20 | 21 | 22 | 23 | 24 | 25 | 26 | 27 | 28 | | | |
| Mar 2021 | 1 | 2 | 3 | 4 | 5 | 6 | 7 | 8 | 9 | 10 | 11 | 12 | 13 | 14 | 15 | 16 | 17 | 18 | 19 | 20 | 21 | 22 | 23 | 24 | 25 | 26 | 27 | 28 | 29 | 30 | 31 |
| Apr 2021 | 1 | 2 | 3 | 4 | 5 | 6 | 7 | 8 | 9 | 10 | 11 | 12 | 13 | 14 | 15 | 16 | 17 | 18 | 19 | 20 | 21 | 22 | 23 | 24 | 25 | 26 | 27 | 28 | 29 | 30 | |
| May 2021 | 1 | 2 | 3 | 4 | 5 | 6 | 7 | 8 | 9 | 10 | 11 | 12 | 13 | 14 | 15 | 16 | 17 | 18 | 19 | 20 | 21 | 22 | 23 | 24 | 25 | 26 | 27 | 28 | 29 | 30 | 31 |
---